Turning the key into the archive reveals the four or five rows of "London Illustrated News" as the familiar damp smell assaults the nasal passages. The volumes are bandaged with a loop that reminds me of the tie on school lab aprons years ago. Slipping the loop off the 1950 volume, I try to give the cover support with a terry roll that the bookbinders have in piles on the large desk. The early pages are filled with diagrams and details of the unfortunate sinking of the submarine H.M.S. Truculent. As described in Wikipedia, "The British submarine Truculent collided with the Swedish oil tanker Divina in the Thames Estuary and sank, killing 64 people. Only 15 crewmen were able to escape. All of them had been in the conning tower of the sub, which had been cruising on the surface of the Thames."
On January 11th the Prime Minister announced forthcoming elections. the next month and there is a fine page depicting the various poses of Herbert Morrison. One suspects that the low tech electioneering was compensated by the quality of oratory if this series of photographs is anything by which to judge.. Morrison was an impressive figure- on the right of the party but not perhaps in the manner we have seen in recent years. He is possibly now most remembered for the so called Morrison Shelter. http://spartacus-educational.com/2WWmorrisonshelter.htm
After the photos of Mussolini and Hitler in absurd poses and repeated images such were popular in the Post and other magazines, I wonder if there was not a hinted subtext here- especially as an election was approaching. Certainly, Morrison was an important figure being both deputy leader and soon to become Foreign Secretary- not a happy time in his career. His grandson, of course, is Peter Mandelson.
Some articles portray the sexism current at the time. BOAC air stewards being taught by what looks like patronising men, how to walk down a rocking board with a tray. An article on Japan praises the docile and considerate womenfolk who are prepared to give neck massages to male members of the family.
1950 opens with the trial of Klaus Fuchs, the atom spy. Christopher Fry's plays are popular in London. India having been given independence so rapidly is left with conflicts between Pakistan and India particularly over Kashmir. Grand murals of Stalin appear above the grand Moscow underground- the great transport leader comrade! Then Nationalists Chinese are inflamed by the recognition of Communist mainland China by the British.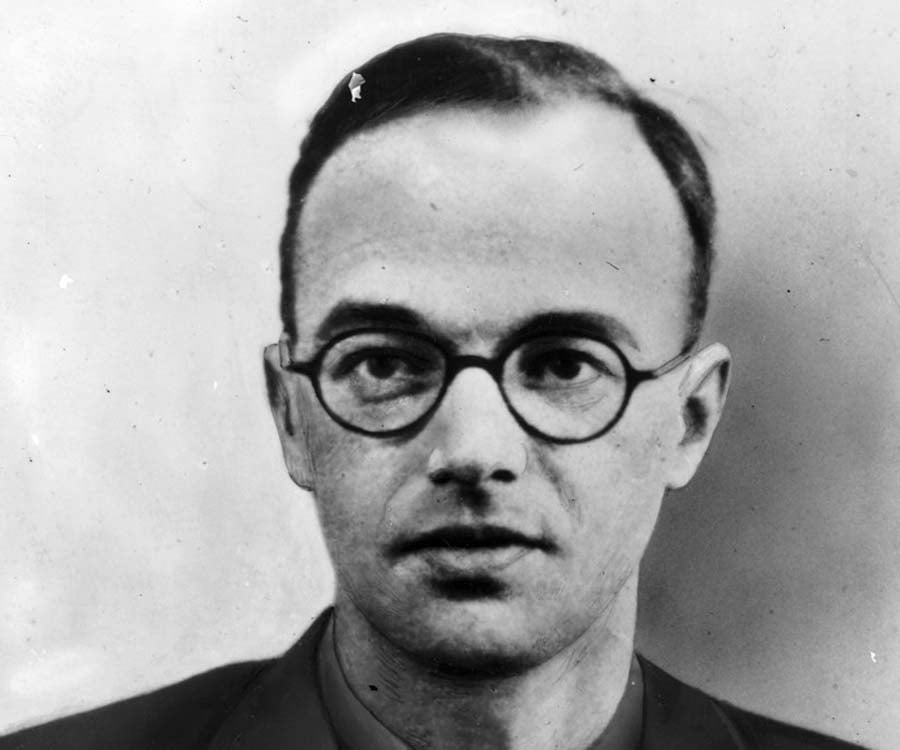 Klaus Fuchs who had been at Los Alamos voluntarily confesses to having been a spy.
The graphic artist most in evidence at this stage was Bryan de Grineau who had been a war artist and made sketches at this time of the war wounded being rehabilitated at University ollege Hospital, St Pancras. More information may be found at http://www.grandprixhistory.org/grineau.htm