Clearly, that which we personally find nostalgic, pertains to ourselves alone but are there paintings which evoke in general this kind of mood state in the viewer? One painting which possibly does is this Matisse. It is discussed in detail on Wikipedia at https://en.wikipedia.org/wiki/Luxe,_Calme_et_Volupt%C3%A9
The fact that the title comes from Baudelaire is partly evidence to this state of mind-
Là, tout n'est qu'ordre et beauté,
Luxe, calme et volupté.
This lines are from a poem called L'Invitation au voyage and certainly the second stanza has a definite cosy feel to it even when google translated into English-
Shiny furniture,
Polished by the years,
Would decorate our room;
The rarest flowers
Mixing their smells
With the vague scents of amber,
The rich ceilings,
Deep mirrors,
Eastern splendor,
Everything would speak there
To the soul in secret
His sweet native language.
Returning to the painting itself, the colours invoke a sense of delicious and delicate luxury, as does the seaside setting and the recumbent nude figures. The sailing boat with its gaff rig beneath the boughs of the tree, which itself offers a protective quality, suggests that the shore may be quitted should ennui prove too troublesome.
On a personal level, my interest in this technique was stimulated by a term we did in the third year with our art teacher, Charlie Mac, when he suggested we paint using pointillist technique to give our work a more lively quality. We did some nice work from the end of the harbour pier in Penzance. However in the above m, Matisse was following the suggestions of Signac and creating a seminal work of Fauvism. The wild beasts are here in a somewhat pussycat or kittenish era even Louis Vauxcelles, who used the term, the following year in 1905 might grudgingly admit.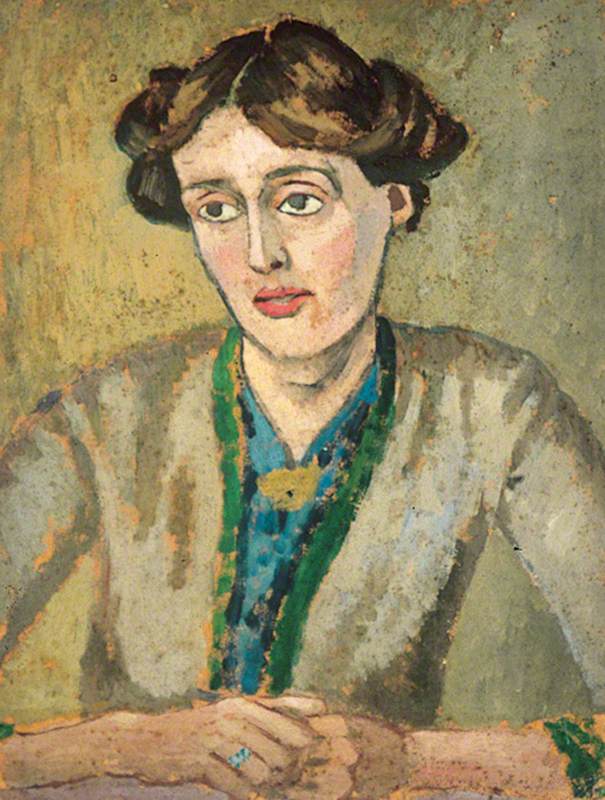 This portrait by Roger Fry of Virginia Woolf has I think a somewhat similar pointillist character. However, it evokes nostalgia because I can remember from childhood people dressing in warm woollen jumpers and staring pensively into the distance. This painting is on loan to Leeds Gallery from its owner.