Two schoolmasters sat shredding their gowns in the late afternoon in the hut and during the urbane conversation fed the torn off pieces into the gap at the top of the stove. In such a manner, a little more warmth was afforded to extend their discourse for another few minutes. Their talk was conducted with epigrams in various European languages and spiced with the odd Latin tag. The stove added to the convivial ambience and the prevailing gemutlichkeit.
Let us move on from this staffroom tale, occasioned as it was by a copy I had made of some features of a well-known painting by Braque. Here it is:-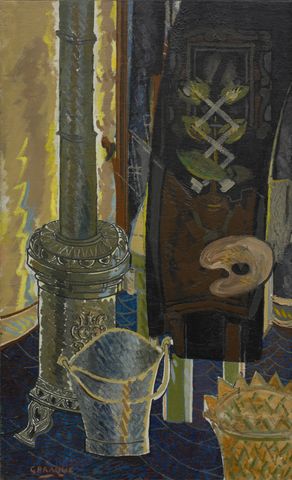 Here is the small sketch that I made several years ago:-
The painting with its lovely colours may be found in Yale University Art Gallery and is discussed at https://artgallery.yale.edu/collections/objects/50855
I wondered why this painting held my interest and began to recall that a good number of my lessons at Grammar School were delivered in the damp but sometimes warm and cosy Temporary Huts. In my memory these seem to have been in the late afternoon and within the sound of the games field outside. One of these was the so-called Prefect's Hut which I cannot ever remember actually entering. A good deal of R.E. seems to have taken place in such huts which were on raised piles of concrete blocks. There may have been a coloured oil map of Paul's Journeys or the Middle East on a roller above the blackboard. Then there was German that I was supposed to be cramming for Oxbridge Entrance. All of which was rather a failure although I was quite interested in Scientific Terms like Bremstrahlung-(German: "braking radiation"; electromagnetic radiation produced by a sudden slowing down or deflection of charged particles (especially electrons) passing through matter in the vicinity of the strong electric fields of atomic nuclei. Nowadays my German has somewhat improved and in particular psychoanalytic words like durcharbeiten hold greater appeal.
In recalling particular lessons in cosy atmospheres, one in particular springs to mind taught my my own Form Master- a retired Wing Commander who had an intriguing time in Special Operations and would frequently preface remarks with "As my old friend, Bill Penny used to say……." https://en.wikipedia.org/wiki/William_Penney,_Baron_Penney Anyway, this lesson was an attempt to demonstrate measuring the acceleration due to gravity. It involved a swinging lath on a pin supported by a retort stand and a falling lead ball which left a mark on said lath when released using a string mechanism. A pipe smoker and hence possessing a lighter to burn through the thread, his use of the rather ersatz apparatus combined the master's cricketing interests effectively. It produced a reasonable estimate of "g".in those days in centimetre- gram-second units and we proceeded to consider some of the sources of error in the value we obtained.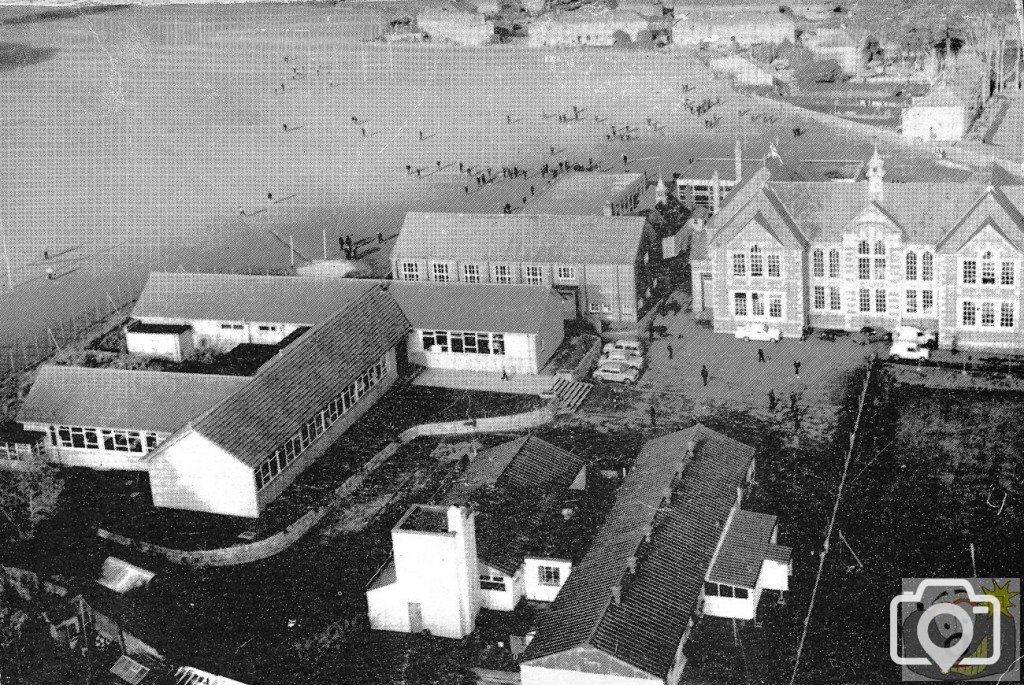 The huts may be seen in the bottom left hand corner of the pre 1980 view of my Grammar School. Whilst not actually Nissen Huts these rather shabby buildings brought to mind the many black and white Second World War films that were much in vogue in the Sixties.